Perfect Meal
Discover a diverse range of cuisines at Serensia Woods, from the rich flavors of Cantonese delicacies to tantalizing international dishes and beyond. Delight your taste buds at our Chinese-themed Peony Restaurant or immerse yourself in the inviting atmosphere of our Western-themed Camellia Restaurant. Whichever cuisine or restaurant you choose, prepare to indulge in a symphony of flavors that not only delight your palate but also seamlessly intertwine with the pervasive wellness theme embraced throughout our resort.
Camellia Restaurant
Camellia Restaurant blends the best of East and West, offering a fusion of classic and authentic Western and Southeast Asian cuisine. Enjoy our refreshing homemade fruit juices and you may also enjoy our afternoon tea service. We also have an extensive selection of fine wines, including a collection of exquisite Portuguese wines perfect for enthusiasts.
Peony Restaurant
At Peony, we take pride in meticulously preparing exquisite dishes. Our commitment to personalized service, combined with our private and high-end setting, makes us not only a remarkable dining destination but also an impressive choice for hosting intimate gatherings with friends.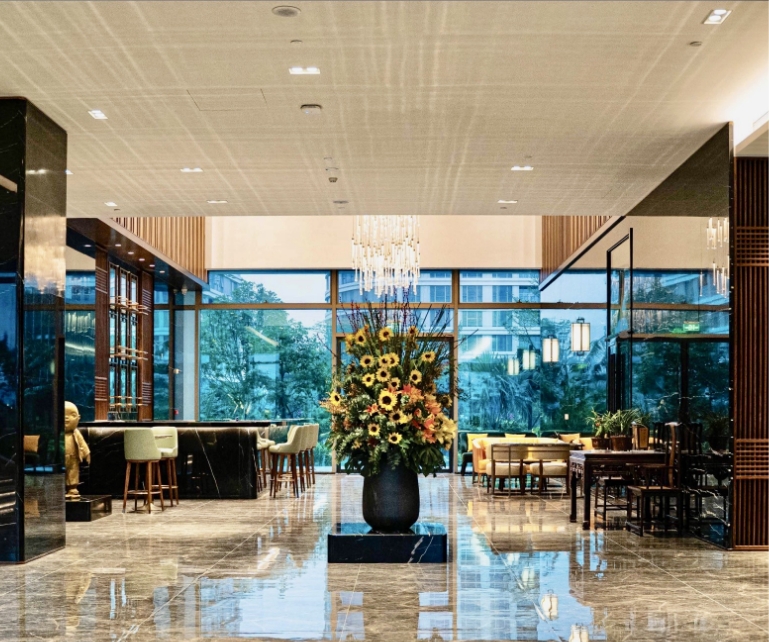 Lobby Bar
Enjoy drinks and light snacks while enjoying a cozy atmosphere at our Lobby Bar. Our attentive and thoughtful service ensures a delightful experience as you enjoy our selection of classic cocktails and specially crafted non-alcoholic beverages. This is a great place to let yourself unwind or to have intimate gatherings with friends and guests.
Events
Serensia Woods a premier destination for hosting exceptional events. Our resort boasts an array of world-class event facilities and capabilities that are designed to elevate any occasion to new heights of sophistication and elegance.