Serensia Woods is located on Hengqin Island of the Greater Bay Area, a burgeoning region designated as a development area for the latest in the wellness and travel industries.
Seated on the west coast of the scenic island, Serensia Woods is enwrapped by breathtaking views of nature and greenery. With state-of-the-art facilities and a range of offerings in wellness, leisure and entertainment, people of all ages and interests enjoy themselves at Serensia Woods.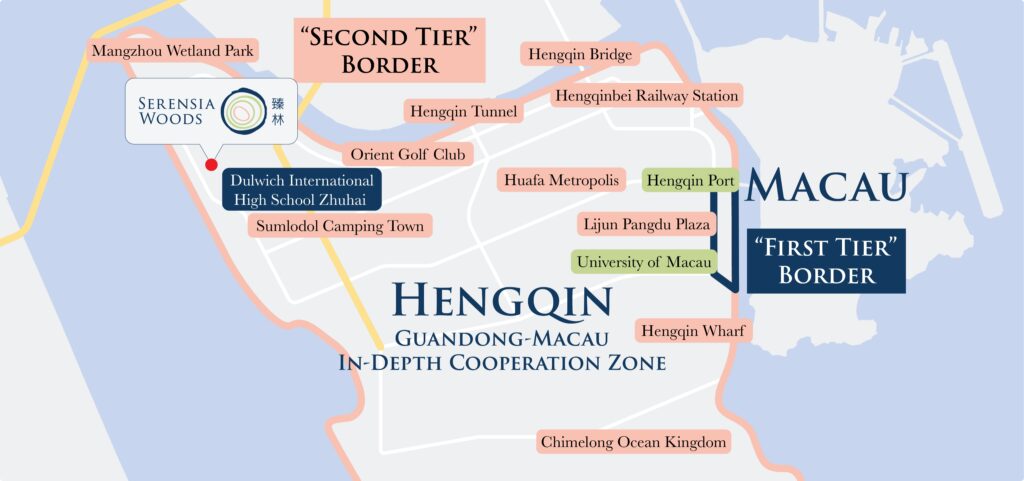 Mangzhou Wetland Park:
A 66-hectare wetland park and important region of ecological conservation. Home to a community of birds, the park is a great destination both for immersing oneself with nature and enjoying beautiful views.
Seaside Promenade:
Stretching 13.6 kilometers, the seaside promenade features a stunning display of greenery and flora along its course. Directly adjacent to Serensia Woods, it is an extremely close and convenient location both for taking slow, relaxing walks or doing refreshing exercise by the sea.
The Orient Golf Park:
A 27-hole premium golf park with a unique set of water hazards that make for a challenging and fun experience.
Chimelong Ocean Kingdom:
Chimelong is an award-winning marine-themed amusement park with a vast range of rides, attractions, and animal shows. Holding multiple world records, the park is an unforgettable experience and offers the best in amusement parks.
Three Step Waterfall:
A famous attraction in Hengqin, the Three Step Waterfall is a popular sightseeing destination and offers a gorgeous overlooking view of the island.
Sumlodol Camping Town:
A unique zone for recreational vehicle and outdoor camping, the Sumlodol Camping Town is an experience like no other. Visitors may stay in premium hotels or set up camp in outdoor tents and partake in outdoor activities ranging from barbecue parties to nighttime stargazing.
Novotown:
Located at the center of Hengqin Island, Novotown is a large, mixed-use complex featuring a wide variety of food and entertainment attractions, including the Lionsgate Entertainment World and the National Geographic Ultimate Explorer.
China Red Sandalwood Museum Hengqin Branch:
The Red Sandalwood Museum, a magnificent work of architecture, features an impressive selection of precious relics. It is a great experience for anyone interested in exploring the history and culture of Chinese red sandalwood.
Shenjing Village:
Rich with history, the Shenjing Village is a popular destination for those interested in exploring culture and experiencing living in ocean-themed local residences.
Hengqin Xiangzhoubu:
At the core of Hengqin Island, Xiangzhoubu is an all-in-one project bringing together offerings in leisure, entertainment, dining, and culture.
Stone Exposition Park:
The Stone Exposition Park is a theme park featuring a selection of activities and attractions related to the rich culture of stones.